Hiking Cathedral Rock: Beginner and Expert Perspectives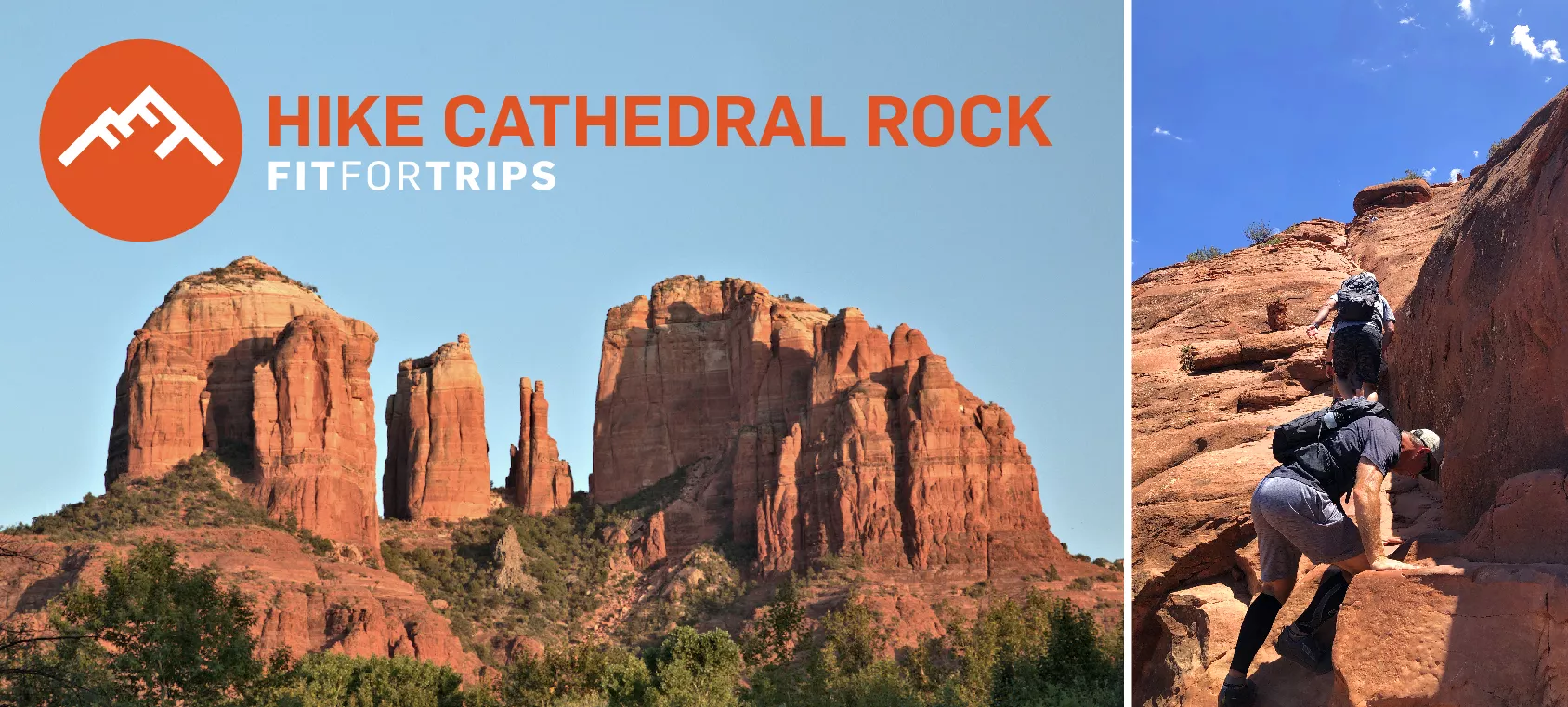 Hiking Cathedral Rock is an unforgettable experience. The Cathedral Rock Trail is one of the most scenic hikes in Arizona. It lies in the heart of Sedona's red rock country, with stunning sweeping vistas of brilliant sandstone chateaux. The towering red rock castles make it one of the most awe-inspiring hikes in the entire state. The Cathedral Rock Trail is short and relatively easy, making it the perfect hike for beginners and families. We've got the inside story on what it's like to hike the Cathedral Rock Trail, directly from the mouths of two hikers just like you.
The Cathedral Rock Trail is the first installment in our three-part series highlighting the best of Arizona hiking. We've teamed up with expert wilderness guide Will Burkhart and two novice hikers to showcase the best beginner, intermediate, and advanced trails in the Grand Canyon State. The Cathedral Rock Trail is the beginner trail of the three hikes. Soon you will be able to check out our comprehensive guides on the Humphreys Peak Trail and Rim to Rim Trail.
A Beginner's Guide to Hiking the Cathedral Rock Trail in Sedona
This is the money shot! Gazing at Cathedral Rock spires on the Red Rock Crossing side about .5 mi in on Baldwin Trail.
The Cathedral Rock Trail is the first in our "Best of Arizona" hiking series. It's a great introductory trail for beginner hikers who want to challenge themselves and experience the intense beauty of Sedona's red rocks. Our beginner hikers prepared for this trip with the help of Marcus Shapiro at Fit For Trips. Marcus created custom fitness plans for each hiker so they could get in the best shape for their Arizona hiking adventures. This is their experience hiking the Cathedral Rock Trail.
Trail Stats
Distance: 1.2 miles out-and-back | or 9-mile loop (detailed in 'Expert's Take' section)
Elevation Gain: 741 feet, with a maximum elevation of about 4900 feet.
Difficulty: Easy (1.2 mi out and back) | Moderate-Hard (9 mi loop)
Season(s): All
Fees: Yes. A Red Rock Pass costs $5/day or $15/week. You can use the pass to hike anywhere in Sedona and the Red Rock Ranger District. You can purchase passes at the trailhead.
Hiking the Cathedral Rock Trail: The Hiker's Perspective
View of Cathedral Rock at about 2 mi mark leaving Oak Creek coming out of the riparian area on Templeton Trail.
Meet your fellow beginner hikers, Mike and Matt. They're both average hikers just like you who wanted to embark on a new adventure and challenge their fitness. Mike and Matt live in Florida, so they're used to paved sidewalks near sea level. They wanted to see what it's like to hike Arizona's best trails.
Hiker Mike S.
Hi, I'm Mike. I was born and raised in Miami and now live in Highland Beach, Florida. I wanted to hike the Cathedral Rock Trail to enjoy a new adventure, spend time with friends, and challenge myself. I'm new to hiking mountainous trails, so I didn't know what to expect. I enjoyed my training and preparation. Without Marcus Shapiro at Fit For Trips, I wouldn't have been able to prepare properly. It was a rush to accomplish my goals and made for an amazing adventure.
Hiker Matt D.
Hey, I'm Matt. I grew up in Miami and currently live in Plantation, Florida. I exercise a few times a week but I've never attempted a three-day hiking itinerary. Living in South Florida, I didn't have a clue how to prepare for a hike with elevation gain and distance. So I asked Marcus Shapiro at Fit For Trips to provide a routine I could complete in time for the hike. Getting together with friends for a physically challenging adventure was the perfect trip.
We asked Mike and Matt to share their experience with you so you know what to expect when it's your turn to hike the gorgeous Cathedral Rock Trail. This is what they had to say.
Will's hiking group at the base of the scramble section taking in the sites.
What's the best thing about hiking the Cathedral Rock Trail? 
Mike: First of all, Cathedral Rock is one of the most beautiful places I've ever been to. But I also really enjoyed scrambling. I've never done that before. It's an element of hiking I've never experienced and it was totally awesome. I really enjoyed that part.
Matt: Several things. The first thing is the excitement and anticipation. Then realizing it's not going to be as difficult as I thought, which gave me time to progress. When we first got there, I put my feet on the sandy floor and was like, "oh my gosh, these are like pillows." That was a great feeling since I'd been training on cement. I enjoyed just how beautiful it is. And to be there with close friends was enjoyable.
Will points to the scrambling section and provides a quick explanation of what scrambling is to his hiking client, Mike.
What's the hardest part of hiking the Cathedral Rock Trail? 
Mike: Scrambling. I've never done it before and we were pretty vertical, so it was a little nerve-wracking. I can't remember anything negative, though. It was a great experience. I mean, scrambling is what sticks out, but that's also what made it a unique experience.
Matt: The hike up wasn't too challenging. The scrambling was new for me, but I felt like I was prepared. I didn't know how much scrambling I'd be doing. I thought, "am I going to be able to do this? How far can I go?" Turns out, it wasn't an issue.
Beginner hikers show that scrambling is easy when you train properly.
How is Cathedral Rock different from Humphreys Peak or the Grand Canyon Rim to Rim? 
Mike: First of all, it's a shorter distance, so it's a lot easier. We got to experience scrambling, which we didn't experience on the other hikes. And it was more beautiful. It was a great first-day hike. A better introduction. It was more leisurely, so it helped me build confidence as an inexperienced hiker.
Matt: Something I love about the itinerary is how all three locations are completely different; that kept it interesting. I was able to experience the Red Rocks and the way the boulders are uniquely shaped. Being able to climb them was a really good experience. And that's the main difference with Cathedral Rock: the shapes of the boulders and the terrain was very different.
Hikers in Will Burkhart's group, after completing the scramble section.
How was your preparation helpful for hiking the Cathedral Rock Trail? 
Mike: Being an amateur hiker, I didn't understand why I needed special shoes or a backpack. Actually, I didn't understand a lot of things, but they made sense once I got up there. If I had the wrong gear, I would have been slipping and sliding. It would have been a disaster, for me and and the group, since they'd be picking me up off the floor. You need quality gear. Otherwise, you'll bring everybody down with you.
Matt: Walking up and down stairs. The stairs were great preparation for all three days, and certainly for Cathedral Rock.
Look for the Juniper tree at the top of Cathedral Rock. It provides a little shelter from the sun.
What would you tell others preparing to hike the Cathedral Rock Trail?
Mike: I'd tell them to over-prepare, so they can enjoy the hike and the sheer beauty of it all. Make sure you're paying attention to the scenery and views because it's a really pretty place.
Matt: I'd tell them not to get psyched out. Don't feel overwhelmed or nervous, Cathedral Rock is a casual hike. Enjoy the hike, enjoy the views, enjoy the terrain. It's a good starting point in a larger itinerary.
Sitting at the highest point of Cathedral Rock, about 5000 ft. where most hikers turn to head back. About 3.5 miles in.
What gear is important for hiking the Cathedral Rock Trail?
Matt: The shoes and the backpack. For the shoes, it's good to have traction. I don't know how helpful it is on the scramble, because those are smooth rocks. But if I had no traction on my shoes, that wouldn't be good. The backpack is also important. The Osprey Talon 22 pack is great because it has a hip belt and sternum strap that stay close to your body, so your gear doesn't shift around while you're scrambling. Either way, you may want to hang out and enjoy your time out there and the pack allows you to bring lunch or other supplies.
Note: Osprey makes a women's version of their Talon 22 day pack: the Tempest 20.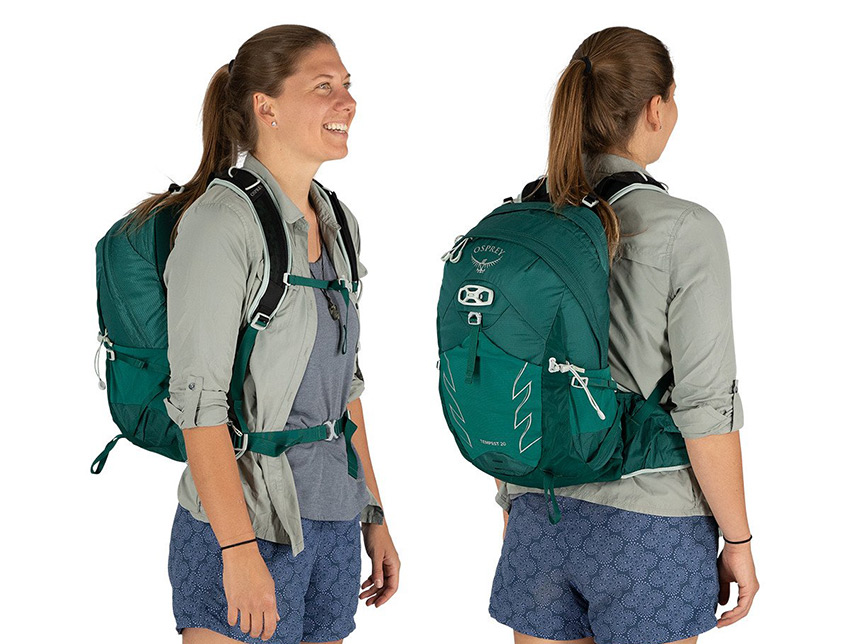 All 4 members of the Cathedral Rock hiking group used the Osprey Talon 22L, companion to Tempest 20L featured above.
Why do you recommend hiking the Cathedral Rock Trail?
Mike: Same two reasons I mentioned before. It's the most beautiful hike I've ever seen, and being able to experience scrambling. I thought it was cool.
Matt: I love the itinerary and the fact that we had three days of different terrain. I've been to Arizona and Phoenix, but I've never hiked in Arizona. I had no clue what Arizona had to offer, so hiking the three (different) itineraries was amazing. I'm glad we did Cathedral Rock, Mount Humphreys, and the Grand Canyon Rim to Rim.
Hikers coming down a steep scramble from top of Cathedral Rock in Sedona.
Hiking the Cathedral Rock Trail: The Expert's Take
Meet Will Burkhart, our expert wilderness guide. Will is the founder and CEO of Bad Ass Adventures, an Arizona-based guiding company that specializes in land and water expeditions. With over 20 years of experience, Will has led clients from all backgrounds through unforgettable adventures all over the world. In addition to being a WFR-certified guide, he helps people master Dahn Yoga, Tai Chi, and Crossfit. Will combines his fitness coaching and wilderness leadership to create some of the most unique adventures in the United States.
We asked Will to answer all your burning questions about hiking the Cathedral Rock Trail. This is what he has to say.
How long does it take to hike Cathedral Rock? 
Completed steep scrambling descent, from the top of Cathedral Rock to Templeton Trail.
Will: The most popular route is from the main trailhead up. It's 0.6 miles one way, with a gain of 741 feet. If you go that route, it takes one to two hours to hike. It's a decent amount of elevation over a short distance. You can make it longer and more scenic by linking several trails. I prefer to start on the Baldwin Trail then make a loop around Cathedral Rock via the Templeton and Hiline trails. This combined route is almost 9 miles long with 895 feet of gain. It takes about four to six hours to hike.
Is Cathedral Rock a hard hike?
Will: It's rated as "moderate" on AllTrails. It's not a stroll through Central Park, but it's not hiking up Humphreys Peak either. The scrambling can be a little tricky. There's some exposure, but as long as you don't freeze up you'll be fine. The difficulty of scrambling depends on your comfort level. If you're alone or you've never tried scrambling, it'll get your attention. But if you're with someone who's experienced, they can help boost your confidence. The scrambling section of the trail has footholds so you have something to grab onto. It's like a steep escalator or stair climb. Using your hands and feet to climb makes it a unique hiking experience. So, as long as you're not scared of falling, you can keep it together and have fun.
Is hiking Cathedral rock dangerous?
Will: Some of the scrambling sections can be a bit dangerous. If you fall, you could potentially roll and ding yourself up. Other than the scrambling, it's not particularly dangerous. But the vortex hikes—Cathedral Rock and Bell Rock—have some exposure. If you fall you can break some bones or cut yourself up. But, the Red Rock is sticky, like sandpaper. It's not very slippery unless it's wet, which is safer. When it gets wet you have to pay closer attention.
Is Cathedral Rock a vortex? 
Will: Cathedral Rock is one of the four main vortexes in Sedona. The other three are Bell Rock, Boynton Canyon, and Airport Mesa. Cathedral Rock is the prettiest and most popular vortex. Boynton Canyon is further off the beaten path, so you'll see fewer hikers. And Airport Mesa can be a zoo.
Mike hiking at about mile 6 or 7 on the Templeton Trail, working his way clockwise around Cathedral Rock.
Why is it called Cathedral Rock? 
Will: Because it looks like a cathedral.
Can dogs hike Cathedral Rock?
Will: Yes, dogs can hike it as long as they're on a leash. There might be a few spots where you'll want to help your pup up. I wouldn't necessarily recommend dogs because of the scrambling sections. Trying to manage your dog and yourself can be tricky. With all the moving parts, you could take a fall. I wouldn't recommend hiking Cathedral Rock all the way to the top with your dog unless your pooch is well-behaved and you're experienced.
Where do you park if Cathedral Rock is full? 
Will: The parking area at the Cathedral Rock trailhead can fill up, especially on weekends and holidays. If that's the case, you can go around to the Red Rock Crossing side, where you pick up the Baldwin Trail. Personally, I think that's the prettier side anyway. The approach is longer, but there's more parking.