Rim to Rim in One Day: Hiking the Grand Canyon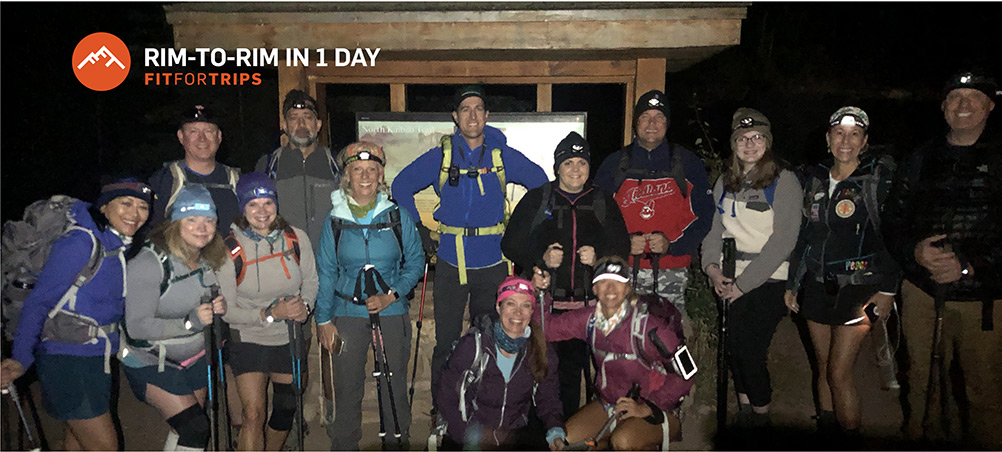 Hiking the Grand Canyon rim to rim will provide you with an unforgettable experience that requires early planning. In this series we detail information about two different R2R (Rim-to-Rim) hiking options.
2 Day R2R: Fitness Training for the Rim-to-Rim Hike
You're reading 1 Day R2R: Rim to Rim in One Day
This adventure is quite strenuous and requires a hiking training plan.  If hiking is a huge passion of yours, you'll regard it as a glorious challenge – one that can be achieved with the right mix of information, exercise, and guidance. Keep reading to learn what you need to know to complete a successful rim to rim hike in one day.
Why Hike the Grand Canyon Rim to Rim in One Day?
The one day option for the hike presents a unique challenge that many experienced hikers are eager to embrace. Some people want the sense of achievement that comes with completing such a strenuous hike in just one day. Others may have already completed multi-day rim to rim hikes and are looking for new challenges. Whatever the case is, however, a one day rim to rim hike will give you a feeling of satisfaction that very few people on this earth know.
Colorado River at the bottom of the canyon
Owner of Badass Adventures – Will Burkhart – sent out an email highlighting the importance of training particularly for R2R in one day.  Here is what he communicated to his travelers: "I just wanted to shoot out a quick email, reminding everyone of the importance of being prepared for this rim to rim adventure. As I mentioned in your client information form, you need to be comfortable traveling at an average pace of 2 miles per hour for at least 12 hours. Depending on everyone's experience level and background, that may or may not seem like a big deal. Of course, during the rim to rim, you will be dropping 1 vertical mile and ascending nearly the same distance over some moderately rugged terrain. The last 3.5 mile gain of 3,000 feet is the crux of the crossing. Having over 15 years of experience in the canyon and over a quarter of a century of extreme adventure experience, I can tell you that most people underestimate the difficulty of this adventure. Do not be one of those people. Make sure you have trained adequately so that you can enjoy the experience."
Will continued with nutritional and hydration advice: "Along those lines, make sure as you are training, that you pay equal attention to your nutrition during your training hikes. Being able to sustain energy through proper nutrition and hydration is vital. Experiment with different hydration products and strategies. Make sure that you have proper electrolyte products and fuel that agree with your stomach. Intestinal distress is about the quickest aspect that will stop you dead in your tracks and can be challenging to overcome, so train your nutrition as well as your physical body."
What is the Best Time to Hike the Grand Canyon?
A rim to rim hike is easier to complete when the days are not too hot or cold. March through May and September through November are the most popular times to book a hike if you want to experience temperate conditions. The busiest time to hike the Grand Canyon, though, is in the summer since it coincides with vacation plans. That being said, an experienced guide can help you select the best time for your hike based on your personal preferences and the goals you want to accomplish.
Rim to Rim in One Day – Choosing a Guide
An experienced guide can help you make the most of your time when you only have one day to explore the Grand Canyon. There are two companies that receive excellent reviews for single day treks, both due to their knowledge and the care they show to their clients. They consist of dedicated guides who enjoy exploring the Grand Canyon National Park.
Beautiful views from the bottom of the canyon
Hiking rim to rim in one day is physically exhausting.  The company you select should be one that makes you feel safe. You must be able to rely on them to put safety first at all times. Their knowledge of the trail should be extensive, and training in basic first aid is important. Some people who are going on this trip may have never hiked at elevation before, and your guide must know how to handle medical emergencies.
Doing a rim to rim hike in one day will also test your mental strength. Surrounding yourself with positive people who are determined to finish will increase your chances of overcoming both mental and physical obstacles. Your guides should be courteous and have a positive attitude that will help you to keep going even after you start feeling the burn in your muscles.

What Companies Offer Guided One Day Rim to Rim Grand Canyon Hiking Tours?
K2 Adventure Travel offers Grand Canyon rim to rim one day guided tours. "Every person who has ever dropped in the canyon with us has come out on the other end!" says K2 Adventure Travel co-founder Kevin Cherilla.  In other words: The company has a summit success rate of 100%, which it has gained by paying careful attention to planning and safety. K2 observes each member of their group during the trek to immediately detect any signs of illness or fatigue.
Kristen and Kevin the owners of K2 Adventure Travel
Kevin said this regarding the client carrying their own pack: "We do not provide porters to carry people's belongings.  Everyone is required to carry their own packs. However, if they become injured or ill, our guides will always assist with a client.  If a person wants to hire a private guide to carry their items it needs to be arranged prior to departure."
The one day hike package includes all fees associated with the trip. You'll get double occupancy accommodation, a luxury bus ride to the Grand Canyon, snacks, meals and more. K2 also provides packing lists, personal consultations, and training plans for ever client. Every group is accompanied by experienced guides, each of whom is certified as a Wilderness First Responder (WFR).
Bottom of the Grand Canyon
All professional guides are expected to know how to react if a member of their group is affected by heat stroke, sustains a foot injury, or is negatively affected in any other way by the tough desert terrain. The medical training allows them the ability to examine a visitor and deliver care, as well as facilitate evacuation if necessary.
Staying in constant contact with other members of their team who can provide fast assistance in an emergency is important. K2 always has satellite phones with them, and they also keep communication going through long and short distance radios.
You can contact Taryn for more information on the tour at Taryn@k2adventures.org.
Crossing the suspension bridge across the Colorado river
Badass Adventures provides private guided tours that are tailored to your goals, which means they offer rim to rim one day tours. You can work with your guide to develop the itinerary that fits your needs, and when the time comes for your hike, you will be given transportation to and from the Grand Canyon along with meals throughout the day.
Will Burkhart, the owner and operator of Badass Adventures, has led tours through the Grand Canyon for more than 10 years and traversed the Canyon numerous times. He has an intimate and extensive knowledge of the area. Will designs his tours to fit the needs of everyone from first time visitors or experienced hikers who want to see the more remote parts of the Canyon.
You can contact Will Burkhart at will.burkhart@gmail.com to set up your rim-to-rim hike.
Heading down the canyon from the North Rim
How Long is the Rim to Rim Hike?
The Grand Canyon rim to rim guided hike is about 23.5 miles long and typically takes between 12-15 hours to complete (though the current world record for completing a rim to rim hike is 2 hours, 39 minutes and 38 seconds). This distance is almost a marathon and also presents you with the complexities of navigating an incline. Even if you've hiked uphill before, going up the Grand Canyon is an altogether different beast, which is why going with a guide who knows the trail like the back of their hand will give you an advantage.
Since you'll observe the geology of the area up close, you'll learn a lot while walking. Distinctive geological features make this national park a global treasure. Photographers sometimes wish to take a closer look at interesting features like the Great Unconformity through their lens. The Granite Gorge is just one of many other features which provide a lot of information about the Earth's history.

The flora in the canyon will change as you progress along your journey. The 8,000 foot change in elevation from the highest point on the North Rim to the Colorado River gives rise to a huge amount of variety in plant life. Almost 200 species of lichens cover the Grand Canyon. You can also enjoy more than 1,700 species of vascular plants.
There are a dozen plants which are natural to the area. You can enjoy the beauty of ponderosa pine, banana yucca, claret cup cactus, cliffrose, and other plants that bloom in the tranquil environment created by hanging gardens and springs.
Many small and large animal species make the park their home. Mule deer, desert bighorn sheep, bobcats, and coyotes can be found from the river to the rim. Birdwatchers can look out for more than 400 species of birds. The canyon's tributary streams create a riparian habitat that is ideal for many migratory and resident species.
Enjoying the beauty of the Grand Canyon
Scenic Spots to See When You Hike Rim to Rim in One Day

You'll want to get several pictures even if you're taking an expedited one day hike. There are several points of interest for you to take note of, all of which provide stunning views and memorable sights.
Point Imperial, which is located on the Grand Canyon's North Rim, provides a breathtaking view of the Southwest. Cape Royal also gives scenic views from the North Rim. On the South Rim, Yavapai Point and Bright Angel Point provide some of the best views of the terrain.
Heading up Bright Angel trail from bottom of the canyon
Bright Angel Point is the main overlook on the North Rim. It's at an elevation of 8,100 feet and it's possible that you'll feel out of breath on your way there. Preparing for a guided rim to rim Grand Canyon hike in one day will help you get up to the challenge. If you do need help, you are likely to see park rangers along the path on busy days, where they frequently offer aid and information to visitors.
Are you ready to plan your rim to rim one day hike? Contact us now to set up a free fitness consultation.