The Best Hiking and Walking SOCKS to Prevent Blisters – Part 3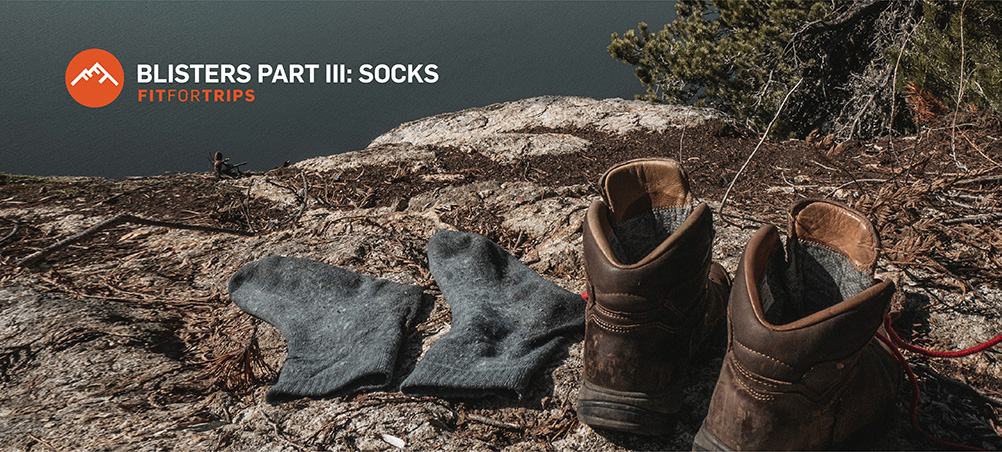 In this 3-part series, we provide tips and best practices on how to treat and prevent foot blisters that occur during a hike or an arduous walk.
Part 1: How to PREVENT Foot Blisters While Hiking and Walking
Part 2: How to TREAT Foot Blisters During and After Hiking and Walking
You're reading Part 3: The Best Hiking and Walking SOCKS to PREVENT Blisters
Ready to reduce the chances of a blister developing on your next hike? Then you need to find the best combination of blister prevention socks and proper fitting footwear to limit friction and manage moisture.
Hiking socks are highly engineered to offer cushion, support, and comfort while reducing blisters and being durable. Primary contact points (ball of foot, heel) provide good cushioning. Other areas of the sock (arch and instep) are designed to give good fit and support. A well-fitting sock helps reduce the chance of blisters while offering comfort on the trail.
The most popular hiking socks sold today have been well tested by thousands of long distance hikers on trails from local walks to 2,500 mile long trails (Appalachian Trail, Pacific Crest Trail). The anecdotal evidence has shown which materials and designs work the best for comfort and longevity. Technical hiking socks do come with a bit of sticker shock (but they do go on sale regularly, so be patient). Those that hike regularly find that quality socks are well worth the investment. After all, it's your feet that take the pounding and most people I know prefer to have happy feet!
Post hike chilling in Darn Tough Vermont socks.
What are some of the best blister prevention socks on the market?
The hiking sock market has proven midweight hiking socks to be most popular. The most respected players in this group are Darn Tough, Smartwool, and REI. The following socks have proven to be, according to hikers and many outdoor gear test reviews, the best socks to prevent blisters:
Socks just hanging out at the Darn Tough Vermont mill.  Proud to fight the fight against foot blisters.
What you should know about the best hiking socks to prevent blisters
Hiking socks are generally referred to by the amount of cushioning provided. Thicker socks are intended for winter use with boots. Medium weight socks are most popular for hiking with the industry trend towards lighter weight footwear. Sock thickness does affect how your shoes or boots fit, so keep that in mind when fitting your socks and shoes. Keep in mind that your feet will swell over time when hiking, so leave a bit of room to allow for it with your shoe and sock combination.
Sock height has some relationship with the amount of cushioning provided. Heavier weight socks are generally taller to provide protection while wearing tall boots. Crew socks are popular for low cut boots, as well as hiking shoe wearers. Ankle height socks are very popular, particularly in warmer regions of the hiking universe. No show socks are mentioned because of their daily-wear popularity, but few hiking specific socks are made in that style as most hikers prefer a bit of ankle protection.
What is the best material for blister prevention socks?
We only recommend the best hiking socks proven to prevent blisters. The sock materials that are for optimal hiking are Merino wool blend and CoolMax (proprietary polyester fiber blend) due to their moisture handling properties and quick drying time.
By far the most popular blister prevention socks today are made from Merino wool (a type of sheep from New Zealand) which provides a soft, dense cushion with minimal itching and are nothing like the itchy, rag wool socks of old. The big advantage of Merino wool is that it adjusts to temperatures fairly well. It can stay warm even when damp, yet not give you hot feet due to Merino's ability to breathe. The natural lanolin makes it soft to the touch. Wool has natural odor blocking properties and can go for days on the trail without getting funky.
Modern Merino wool socks are very soft and do not itch for 99.5% of the population. They can be machine washed and dried with your typical laundry load — no special care needed other than washing in cold water (hot water will cause wool to shrink). One great thing about wool is it can handle a lot of moisture before it feels damp. It doesn't dry as fast as CoolMax does, but dries much faster than cotton. Even a moderately damp Merino wool sock will feel dry on your foot.
Nylon is used as a component to provide structure and durability. Typically, high wear areas will have more nylon in the material. Some Elastane is used to give the sock a bit of stretch so that it hugs your foot snugly. Smartwool brand Merino wool hiking socks rocked the hiking world in the 1990s and are still the standard, though many other companies now make Merino wool hiking socks of varying quality. Darn Tough makes excellent socks that last longer and feel better than any other brand I've ever owned, and they are made in the USA. They are not cheap, but they are guaranteed for life.
Another image of Darn Tough socks.  Worn to prevent blisters ya know…
Synthetic sock fabrics (such as Coolmax) are good for managing moisture and heat, but do not manage odor well. Such socks are more popular for sports or daily walks near home where they'll soon be washed. Bridgedale is a highly touted sock company that uses CoolMax technology and Merino wool blends.
Cotton socks serve no function as outdoor wear. They typically fit poorly, absorb lots of moisture, and are slow to dry when wet. Moisture is a major factor in causing blisters. Cotton is great for casual wear but not for active outdoor pursuits, while nylon fleece socks are nice to wear around camp but are not great for hiking.
Should you wear liner socks when hiking to prevent blisters?
The foot and shoe need to be in harmony or the chance of getting a blister will increase dramatically.
Traditional liner socks of thin material are worth mentioning simply because of the industry movement to lightweight hiking shoes. Liners are rarely used with anything except for heavier boots intended for harsh environments. Liner socks do help with blister prevention when used with hiking socks in a relatively stiff hiking boot.
However, the more flexible the sole, such as a trail hiking or trail running shoe or lightweight fabric boot, the less need for a liner sock. This is because the sole of the shoe can bend freely with your foot and reduce the friction (assuming you have a good fit). This is why many hikers are fine wearing just a pair of Merino wool or CoolMax running/hiking socks (you may also consider the WRIGHTSOCK double layer sock used by many ultra-distance runners).
Stiffer soled boots, which don't move as easily with your foot, are often best worn with a very thin liner sock next to your skin and a thicker wool hiking sock next to the boot.
The liner sock should fit like a second skin (no fabric bunching, no obvious toe seam), which reduces friction with the outer sock and helps move moisture away from the skin to the outer sock. This reduces the chances of a hot spot to develop on your foot. Moisture control is a key component in avoiding blisters, so be sure to plan in advance to keep a dry change of socks on your feet throughout the hiking day.
A typical liner sock is a very thin piece usually made from polypropylene (CoolMax) or Merino wool blend.  
Liner socks provide an extra layer of protection for the bare skin of the foot and prevent hot spots from forming. Thin liner socks dry out quickly, allowing you to change into a dry pair of socks every few hours. Let your bare foot air out a few minutes before replacing your socks (even if you're in the cold, you can throw a jacket over your bare feet for a moment or two). Some people love liners, others hate them. Again, proper fit is key; the liner should be your layer of "second skin." If you are prone to blisters, you can always get a pair to experiment with, such as CoolMax blend liner socks or Merino wool blend liner socks.
How do you choose hiking socks to prevent blisters?
The next piece is choosing the right blister prevention socks to wear.
Again, fit is a key factor. The hiking socks that best prevent blisters will fit your foot snuggly (it should have a bit of spandex in the wool blend). You should not be able to feel a toe seam. Sock thickness will affect the way your boots fit. You may want to start with a medium or thin cushion, particularly if you are using a liner sock. Merino wool socks (blended with a bit of nylon for durability and spandex for stretch) have become the preferred hiking sock material over the past 25+ years both for comfort and moisture management. Of course, socks are a personal preference item, so your mileage may vary.
Always try some different sock combinations on shorter hikes. I prefer to use a slightly thinner sock as it dries quickly, takes up little space in the pack, and weighs next to nothing. Always carry at least one extra pair of dry socks just in case your feet are super-sweaty, a torrential downpour pops up, or you slip on a rock while crossing a creek.
Tips to Prevent Sweating and Deal With Moisture to Keep Your Feet Dry
A quick note on foot moisture: A thick sock stuffed inside a leather or waterproof boot while hiking all day is certain to keep your feet damp and blister prone. Let your feet air out during breaks by taking off your boots/shoes. If your socks feel really damp, change into a dry pair and strap the damp ones on your pack to dry. Clean your feet with alcohol wipes at the end of the day or soak your feet in a cool stream. One other trick — have a completely separate pair of clean, dry socks for sleeping only. Keeping your feet clean and dry will go a long way toward preventing blisters.
For those with really sweaty feet, there are antiperspirants for your specific needs and yes, they actually work. Antiperspirants for feet are most effective if they are applied to clean feet just before bedtime and worn with a clean, dry pair of thin socks (your designated sleeping socks). The antiperspirant will soak into your skin overnight and result in less foot moisture the next day.
Foot powders are nice to use before bed if you are not hiking the next day. The military did some testing on these products. Soldiers who used foot powders before maneuvers actually got more blisters than those who didn't use powder. The powder acts as micro-grit once it becomes moist and rubs the foot with a sandpaper-like effect, so keep your foot powder for end of day use when your feet are dry.
Remember: blister prevention socks are just a small piece of the puzzle. You also need the right training routine to help you finish your hike. Contact us today to get your free fitness consultation and start your journey to your next adventure.